Gluten-Free Pasta Bake with Sausage and Mushrooms is a super easy and SO delicious dinner recipe that uses gluten-free pasta, a creamy marinara sauce, sausage, mushrooms, and lots of cheese!
I'm SO excited to share this Gluten-Free Pasta Bake with Sausage and Mushrooms recipe with you. Wanna know why?
It's because my family has been making this pasta for as long as I can remember.
Well, they've actually been making this pasta without the "bake" component … but what's life without a little extra cheese?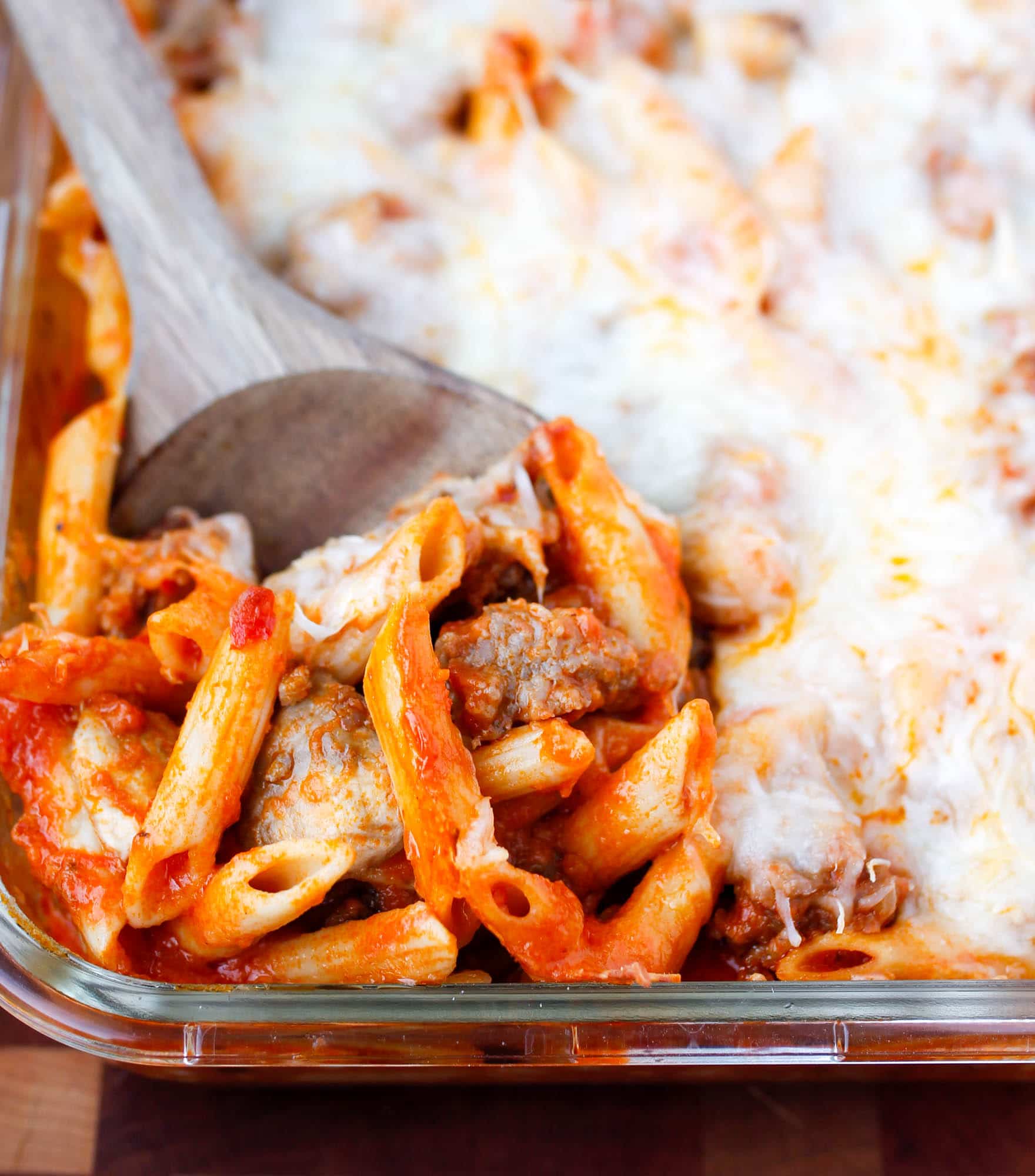 I basically took a family favorite recipe for creamy sausage and mushroom pasta, substituted gluten-free pasta, and added a whole bunch of cheese to the top to make a pasta casserole.
The result was a dinner so delicious, I literally ate it for every meal over break until it was gone. It's THAT good.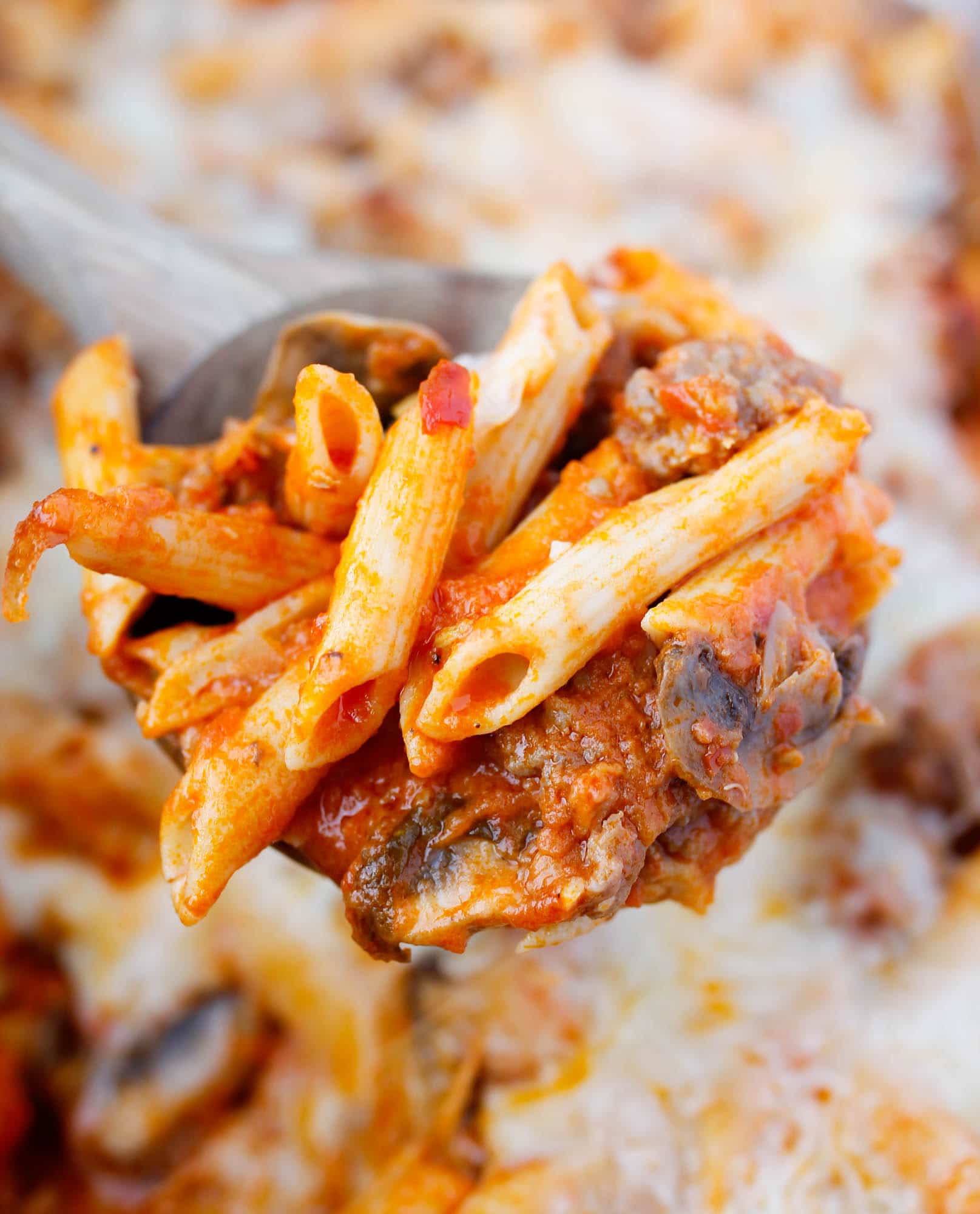 One of the best things about this Gluten-Free Pasta Bake with Sausage and Mushrooms is how easy it is to make! It seriously only uses a few ingredients and comes together so quickly.
It's the perfect quick and easy weeknight meal to make that your family will surely love.
Can You Freeze Pasta Casserole Before Baking?
Yes – you absolutely can freeze this pasta bake before baking! Just assemble all ingredients in a greased pan, cover tightly with aluminum foil, and place in the freezer.
Hot tip: make a double batch! One for now, one for later.
Once ready to eat, pop that baby in the oven frozen and let it bake until the middle is hot. This will take about an hour.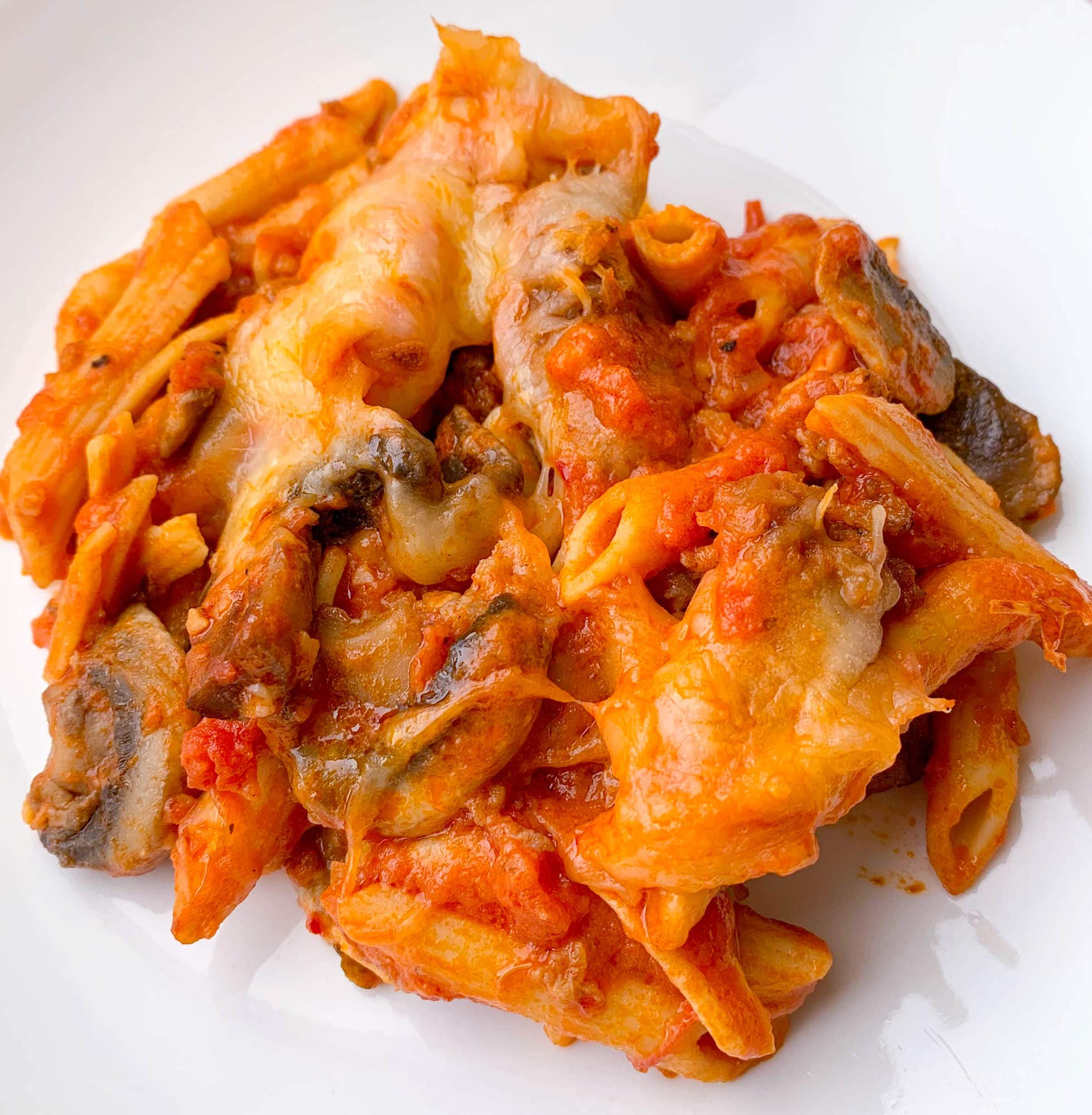 Whether you're entertaining a gluten-free guest, have an intolerance yourself, or simply just want a darn good gluten-free dinner recipe, give this Gluten-Free Pasta Bake with Sausage and Mushrooms a try! I hope you love it as much as I do.
Here's What I Used in This Recipe
Banza Pasta – seriously the best gluten-free pasta made from chickpeas!
Rao's Homemade Arrabbiata Sauce – no other jarred sauce compares. I seriously won't buy any other kind. It doesn't have any added sugar and tastes SO amazing I can't even get over it.
Casserole Dish with Sealing Lid – the leak-proof snaps preserve freshness of your food! This is the perfect casserole dish to freeze meals and store leftovers in your refrigerator.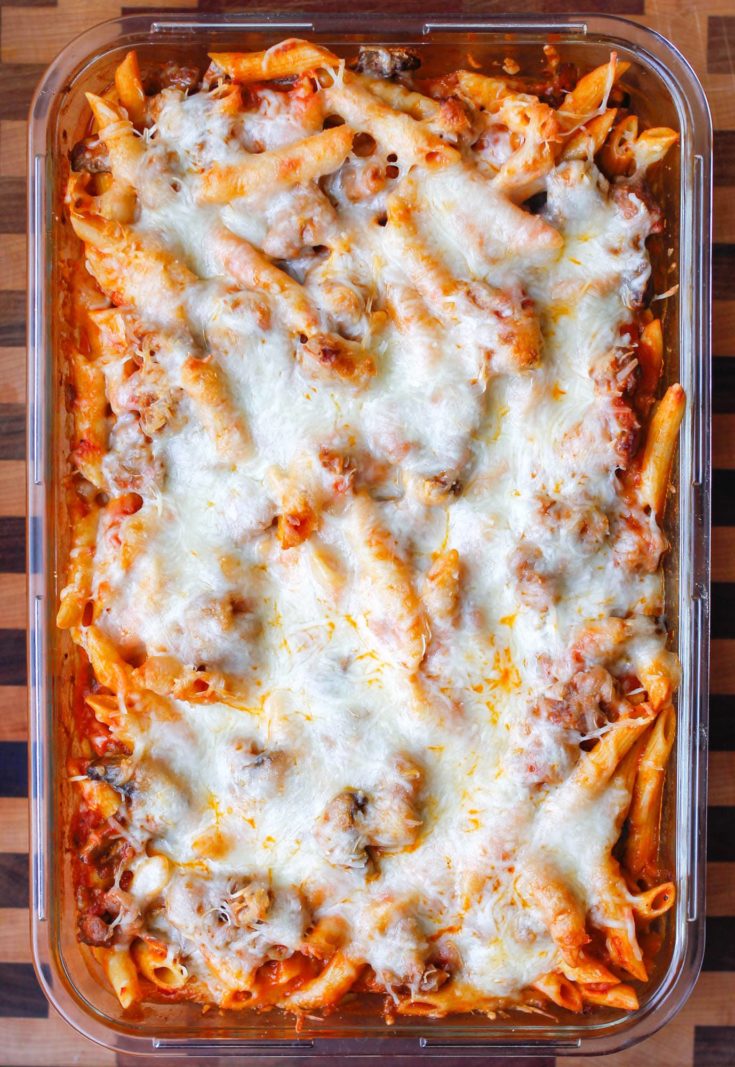 Yield:

8 servings
Gluten-Free Pasta Bake with Sausage and Mushrooms
Ingredients
1 pound Italian sausage
1 (8 ounce) container sliced mushrooms
2 cloves garlic, minced
1 jar pasta sauce (I use Rao's Homemade Arrabbiata)
1/4 cup heavy cream
1 package gluten-free penne or ziti (I use Banza or Trader Joe's brand)
2 cups shredded Mozzarella cheese
Instructions
In a large skillet, brown sausage until no longer pink. Drain fat, remove and set aside.
Add sliced mushrooms and garlic and saute until soft (but still al dente).
Add the sausage, pasta sauce and cream to the pan and stir to combine.
Boil the pasta just until al dente (it should be too undercooked to eat!).
Spray a casserole dish with non-stick spray. Combine the pasta with the sauce and place it in the dish. Top with mozzarella cheese.
Bake at 350 degrees F for 30 minutes or until cheese is nice and melted and bubbly. Serve!
Recommended Products
As an Amazon Associate and member of other affiliate programs, I earn from qualifying purchases.
Banza Pasta



The Best Pasta Sauce

Casserole Dish with Sealing Lid
Nutrition Information:
Yield:
8
Serving Size:
1
Amount Per Serving:
Calories:

341
Total Fat:

23g
Sodium:

642mg
Carbohydrates:

15g
Fiber:

1g
Sugar:

3g
Protein:

18g